The Student Leadership Committee
The Student Leadership Committee (SLC) grew out of the student group that was instrumental in advocating for the creation of the Center for Primary Care.
The SLC's purpose is to empower and train HMS students to become leaders in primary care practice, education, research, advocacy, and community engagement. It pursues these goals through monthly leadership trainings and focused projects related to primary care advocacy, education, innovation, and culture at Harvard Medical School and beyond.
Past and current projects include hosting a symposium on health equity, developing a survey tool evaluating the updates in primary care clinical training and exposure in the Harvard Medical School curriculum, nurturing mentorship opportunities in primary care, hosting a TED-talk style event featuring local primary care innovators, and launching a photo journalism project, "Resilient," which reframed the opioid crisis to focus on the positives of recovery. The SLC sponsors students to attend conferences, conduct research, and travel to other parts of the country to learn about health in diverse settings including rural health and Indian Health Services. The growth of the SLC over the past several years from 12 to 35+ students is a testament to the increasing engagement and excitement about primary care at Harvard Medical School. In alignment with its goal to promote interprofessional solutions to primary care challenges, the SLC has welcomed students from Harvard Medical School, Harvard Kennedy School, Harvard School of Dental Medicine, and Massachusetts General Hospital Institute of Health Professions, with plans of further expansion in the coming year.
View student trainings, programs, and events
Contact the SLC
The SLC is a group for anyone who is passionate about interdisciplinary collaboration and interested in working with others to transform primary healthcare! While working in small groups, SLC teams develop longitudinal projects and achieve goal-oriented interventions to directly impact the community.
---
2022-2023 Center for Primary Care SLC Co-Leads
Maya Talukdar (HMS)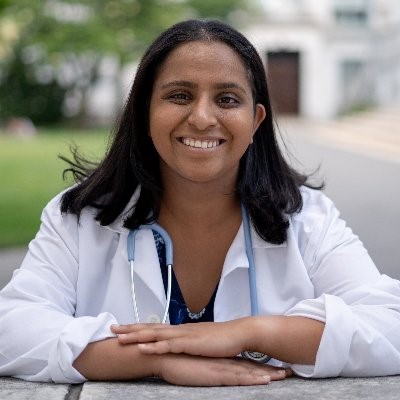 Maya was born and raised in Buffalo, NY and moved to New York City for college, attending Columbia University as a double-major in computer science and biology. Her passion for community health arose when volunteering at the community human rights institution El Puente de Williamsburg, where she used her data science background to understand the effects of air pollution on community health and its intersection with class and race. This experience has catalyzed a long-term interest in using the quantitative sciences to advance human health and health equity. She is now a 3rd-year student in the Harvard/MIT MD-PhD program and Harvard Bioinformatics & Integrative Genomics (BIG) PhD program, and she is thrilled to be a co-lead for the SLC this year.