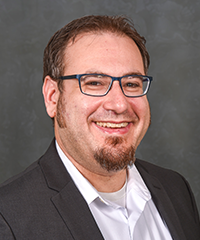 Aaron Hoffman, DO, MPH
Co-Director, Program in Family Medicine at the HMS Center for Primary Care
Faculty
Aaron R. Hoffman, DO, MPH is Chief Clinical Innovation Engineer and a practicing family physician at Atrius Health, where he focuses on primary care for adults in an innovative, team-based practice. His particular clinical interests include reproductive health and approaching primary care with a broad scope, including an array of procedures. In addition to deep involvement in teaching Harvard Medical School students both clinically and in didactic sessions across several courses, Dr. Hoffman is also the medical director of the Physician Assistant program at the Massachusetts General Hospital Institute of Health Professions and serves as an adjunct faculty member at the Institute. 
In his role at the Center for Primary Care, Dr. Hoffman is actively engaged with the Harvard Home for Family Medicine, and is passionate about advocating for family medicine within the Harvard community and fostering leadership development among family physicians in the greater Boston area and internationally. He also is working to broaden research collaborations in primary care, and to enhance the educational offerings within the Center.
Prior to relocating to Boston, Dr. Hoffman completed his training and chief residency at Central Maine Medical Center, in Lewiston, Maine. He attended medical school at the Philadelphia College of Osteopathic Medicine, in Philadelphia, Pennsylvania, and received a Masters of Public Health with a focus on health economics and policy at the Dartmouth Institute for Health Policy and Clinical Practice at Dartmouth College, in Hanover, New Hampshire. His dual undergraduate degree is in biology and ancient societies from Vassar College, in Poughkeepsie, New York.