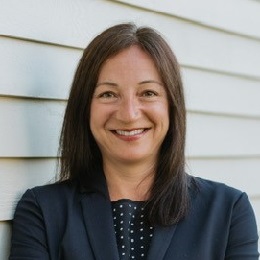 Amanda Frank is a public health social worker with an extensive background in healthcare improvement. She currently serves as Senior Director of Practice Transformation at Community Care Cooperative (C3). In this role, Amanda leads practice transformation initiatives at C3's 18 health centers, developing collaborative relationships with community partners and healthcare organizations.
Amanda also currently serves as a Practice Transformation Coach for the Advancing Teams Program of the Harvard Medical School Center for Primary Care and has been in this role since 2016. In this position, Amanda provides coaching to multidisciplinary teams from community-based health centers working on specific improvement projects over a 10 month period.
Prior to taking on leadership of Practice Transformation in January of 2020, Amanda served as C3's Director of Provider Initiatives beginning in 2017.
Before joining C3, Amanda was Director of PCMH Transformation at Cambridge Health Alliance (2015-2017), where she was responsible for the overall vision and direction of the Patient-Centered Medical Home transformation of Cambridge Health Alliance primary care practices. Before that, she was the health system's Project Manager of PCMH Transformation (2011-2015).
Amanda served as Project Manager at Commonwealth Care Alliance from 2010 to 2011, where she supervised a team of community health workers delivering community- and home-based services to medically and socially complex patients.
Amanda earned her Bachelor of Arts in Psychology from University of Massachusetts, Amherst. She earned Master of Social Work and Master of Public Health degrees from Boston University, where she also served as Project Director at the Center for Addictions Research and Services (2006-2009).
Amanda lives on the South Shore of Massachusetts with her husband and two daughters. In her free time, she loves to run, go to the beach and spend time with her family outdoors hiking, roller-blading, and swimming.