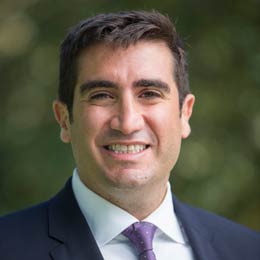 Andrew L. Ellner, M.D., is a Center affiliate and was the founding co-director of the Center. He previously oversaw the systems transformation portfolio, relationships with strategic partners, and Center research. He stepped down in 2016 in order to launch Firefly Health, a tech-enabled primary care services company of which he is co-founder and CEO. He is also a primary care physician at the Phyllis Jen Center for Primary Care.
Dr. Ellner is a graduate of Harvard College and Harvard Medical School. He received an MSc with distinction from the London School of Hygiene and Tropical Medicine and the London School of Economics and completed his internship and residency in the Division of General Medicine Primary Care program at Brigham and Women's Hospital.
Dr. Ellner's work focuses on the redesign of health service delivery and medical training to incorporate advances in information technology, to hasten the adoption of higher functioning organizational models, and to better address the social determinants of health. He previously worked with the World Health Organization and Clinton HIV/AIDS Initiative on projects to improve health systems in low- and middle-income countries. He serves on the board of several non-profit organizations focused on advancing primary care and community health.