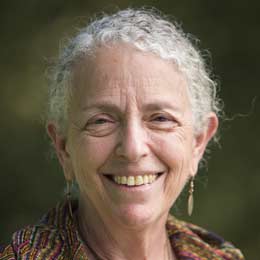 Barbara Ogur, MD
Associate Education Director
Barbara Ogur, MD, is an Associate Professor of Medicine at Harvard Medical School and associate director of innovations in education. Her main focus at the Center is developing and assessing innovative curricula to promote student learning through longitudinal connections with patients.
For the last 27 years she has been a primary care physician at the Windsor Street Health Center of the Cambridge Health Alliance where she has been committed to providing healthcare to under-served patients.
In addition to providing clinical services, Dr. Ogur is the former medical director of CHA's neighborhood health centers. In that capacity, she helped to collaborate in the creation of a number of innovative community services, including the multicultural midwifery service, the multidisciplinary AIDS service, and the free care pharmacy.
Dr. Ogur has also been actively involved in medical education, medical education reform, and in the dissemination of information about longitudinal integrated learning. She helped to develop community-based curricular experiences for first year Harvard Medical School students in the year-long Patient-Doctor course on medical interviewing and the patient-doctor relationship. Her goal is that these real-life connections to patients in need will inspire the next generation of doctors to seek careers in providing academically-rigorous, community-based, and culturally-appropriate care.
In 2004 she co-created and, until 2010 co-directed the Cambridge Integrated Clerkship, an innovative year-long course, based upon grounding students' clinical education in the longitudinal care of patients over time. Inspired by the moving stories of students' caring and educationally-motivating connections with their patients, she is presently involved in the creation of an innovative reform of the Cambridge Primary Care Internal Medicine residency program in conjunction with transformation to a patient-centered medical home under the auspices of the Harvard Center for Primary Care's Academic Innovations Collaborative.