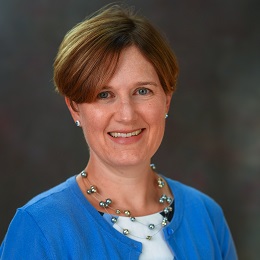 Erin E. Sullivan, PhD, is an Associate Professor of Healthcare Management at the Sawyer School of Business at Suffolk University and holds a part-time faculty appointment in the Department of Global Health and Social Medicine/Center for Primary Care at HMS. Professor Sullivan's research and teaching interests focus on building leaders, teams, and culture in healthcare.
Professor Sullivan joined Suffolk in July 2020 after spending almost seven years as the research and curriculum director at the Harvard Medical School Center for Primary Care. In this role, she worked across an array of research and evaluation projects related to primary care, however, her flagship research project was mixed methods case study research to understand exemplary primary care. This project systematically examined a set of primary care organizations in an effort to develop and refine theory to explain the causes and design of exceptional primary care. This research has yielded a collection of Harvard Business School-style teaching cases, peer reviewed journal articles, and commentaries.
While at Harvard, Professor Sullivan directed the Physician as Leader course for fourth year medical students at Harvard Medical School, as well as regional and national leadership development programs for primary care clinicians and their team members. Professor Sullivan also designed multiple graduate-level courses about organizational change and frequently conducted workshops for primary care audiences on leading change.
Professor Sullivan serves as an advisor to the Leadership Education and Development Program at the Uniformed Services University of the Health Sciences in Bethesda, Maryland. She also serves as the External Examiner for the Professional Diploma in Leading People and Teams in Healthcare at the Royal College of Surgeons in Ireland.
After receiving her PhD, Professor Sullivan worked at the Global Health Delivery Project at Harvard University directing a series of mixed methods health systems studies focused on HIV, TB, and malaria programs in resource-limited settings. Professor Sullivan has conducted research related to healthcare delivery in over 10 countries and on three continents.
Professor Sullivan holds a Bachelor of Arts in art history from Wellesley College and a PhD in business studies from Trinity College, Dublin.