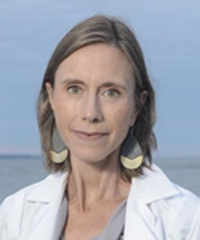 Dr. Katherine Gergen Barnett is the Vice Chair of Primary Care Innovation and Transformation in the Department of Family Medicine at Boston Medical Center (BMC). She is also a Clinical Associate Professor at Boston University School of Medicine and a fellow at BU's Institute for Health System Innovation and Policy. Dr. Gergen Barnett has been at BMC since 2009 after completing her residency and chief residency there.
Prior to BMC, Dr. Gergen Barnett attended Yale University School of Medicine, worked at the NIH, and completed a fellowship studying a model of group prenatal care for women in low-income communities. Her primary clinical interests are behavioral health integration, preventive medicine, nutrition, mindfulness-based stress reduction, women's health, and group care. Serving on the front lines of care has been a steady source of joy and inspiration for Dr. Gergen Barnett and she has been nominated for several awards, including Boston Magazine's Best Family Medicine Doctor.
Dr. Gergen Barnett's research career has been primarily focused on innovative models of care to address chronic medical conditions, physician burnout, and engaging community partners in creating feasible solutions to increase health and wellness in urban communities. Her research has recently expanded to include clinical trials and she is currently serving as BMC's PI for a multi-site, international trial studying the efficacy and safety of Paxlovid in pediatric populations.
Her academic work has been published in numerous academic outlets, including Health Affairs, JAMA, Annals of Internal Medicine, JGIM, and Annals of Family Medicine. Dr. Gergen Barnett has also become an active public voice in radio and television and is a regular contributor to The Boston Globe opinion pages as well as Boston Public Radio. Finally, Dr. Gergen Barnett is actively involved in local and state health policy involved in addressing health inequities.