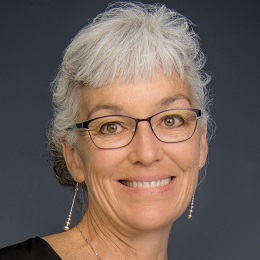 Kathe Miller, MD is a family physician at the Windsor Street Health Center in Cambridge where she provides care to multiple generations of largely immigrant families. She sees patients of all ages including newborns and pregnant woman, and provides intrapartum and newborn care at the Cambridge Hospital. Miller hosts many students from all years of medical training, to introduce them to the delight of longitudinal primary care medicine.
Miller is originally from Tucson, Arizona where she completed medical school and residency training, and speaks fluent Spanish and medical Portuguese. She moved to Massachusetts in 2000 after completing a 6 month Fulbright project teaching medical education in Argentina. Since her arrival in Boston, Miller has been a faculty member at the Tufts/Cambridge Health Alliance family medicine residency and spent three years as the Family Medicine predoctoral director for Tufts medical school. For the last three years, Miller has also been the Family Medicine advisor at Harvard in addition to several years teaching in the Primary Care Clerkship and Patient Doctor 2.
In 2011 Miller was named Preceptor of the Year by the Massachusetts Academy of Family Physicians and in 2012 was named Family Physician of the Year by the same organization. Miller was also honored by the Harvard Center for Primary Care in 2012, receiving the Excellence in Primary Care Teaching award.