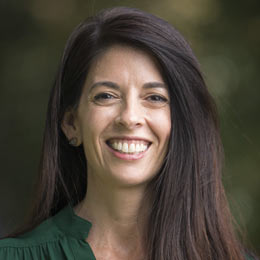 Paola Abello, MBA, is the Director of Innovation at the Center for Primary Care where she leads the Center's strategic direction and vision for supporting innovation and entrepreneurship. She provides mentorship, training, and a roadmap for healthcare innovators, emphasizing a design-thinking approach. The current work of the innovation team includes running courses for the Harvard community, an annual intensive innovation bootcamp in collaboration with MIT, and cultivating relationships across academia, hospital systems, and the industry to build a vibrant network of entrepreneurs. Paola directs the Harvard Medical School HealthTech Fellowship. It's a 10-month program that brings together a multidisciplinary team to conduct observations in clinical care, identify unmet needs, and apply a design-thinking approach to solve those needs.
Previously, Paola designed and launched InciteHealth, a one-year intensive accelerator for primary care start-ups. Paola started her career in healthcare as the clinical innovation program manager at Boston Children's Hospital where she supported innovation projects and enabled innovators to develop and test new ideas. Paola has more than 20 years of experience in launching and expanding business opportunities in the area of commercial real estate, venture philanthropy, asset management, and healthcare. Paola is passionate about fostering new ideas in healthcare, inspiring creativity and reducing the barriers to entrepreneurship.
Paola received her MBA from Babson College with a concentration in Entrepreneurship and her B.S. in Finance and Economics from Boston College.